What is the most important device for an Android developer? Yes you are right, it is an Android smart phone. But which one? It is the Samsung Galaxy S Plus with Amoled display because nearly everybody (who buys our apps in the Google Play store) uses this type of display. Believe it or not, until now we didn't have one. A great Ebay investment brought us (by mistake) two different Samsung Galaxy phones. The one with Amoled display and one with a Super Clear LCD display. Do you have an Amoled display? Do you like it? Here some news for you if you never had a chance to compare devices.

Do you like green? If you like your Amoled display, you have to. Of all the tested devices the Amoled display is by far the 'greenest'. Everything appears a little greenish. All three of us like the color style of the Super Clear LCD (Samsung Galaxy 9003) and the Nexus 7 display best. It is not green and the colors come without excessive saturation. Look at the picture! You will see the differences between the devices. All devices show our Autumn Live Wallpaper Pro, maximum screen brighness and no other screen adjustment. Witch one would you choose?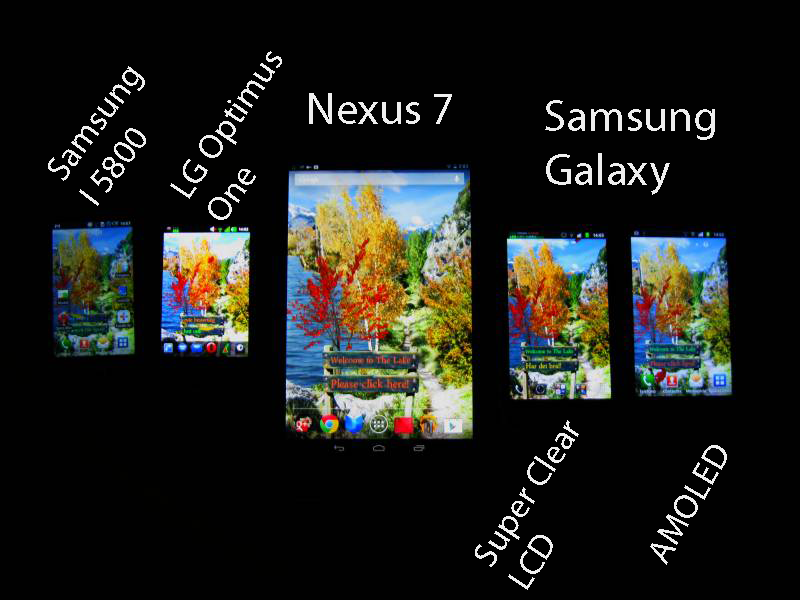 If your device is affected by this green-yellow color tint, too and if green happens to be not your favorite color, we recommend you to try one of the 'Screen Adjuster' apps from Google Play.

For our wallpapers, these tests led us to implement our own color-adjustment settings in the latest Sound of Source applications see Castle Live Wallpaper for example. Watch out for 'AMOLED Color Adjustment' in ther Performance Settings section of the wallpaper Settings.
By SoundOfSource October 1, 2012
3 Comments
By Anonymous October 23, 2012 10:43 AM
Very interesting article
By Anonymous November 2, 2012 7:53 PM
Didn´t know that
By Anonymous November 14, 2012 6:34 PM
so true